Compostable Plates and Dinnerware
​Finest quality eco-friendly compostable party supplies, made from certified organic bamboo.
The ultimate plastic-free solution for your eco-friendly event needs. Our Veneerware line of
compostable bamboo plates
are the first and only natural, disposable option made from certified organic bamboo.
Choosing
compostable dinnerware
shouldn't have to mean giving up style, which is why our plates are an easy choice. Made entirely from neutral and attractive bamboo, our compostable plates and dinnerware are an elegant and sturdy solution that suit any occasion with ease.
More durable than paper and much more attractive than plastic, these bamboo plates are at home at weddings and other special events, with all the easy use you need for a busy weeknight dinner.
As low-impact as we may want to be, we understand that there are some times when a disposable option is needed. And we also know that there's a solution better than paper and plastic. These materials require extractive resources to make, and they end up in the landfill after your event is over. This is why we launched our Veneerware line of 100% plant-based and compostable plates, cutlery, and napkins. Versatile, durable, and attractive, renewable bamboo is the perfect material for a compostable alternative that offers a clean life cycle from start to finish.
Our bamboo is wild-grown in Fujian Province of China and certified USDA organic each year. Carefully chosen to ensure a consistent color and texture, the natural grain of bamboo offers an upscale look that's impossible to match with paper or plastic. No matter the time of year or occasion, compostable bamboo plates will match your event perfectly. And you and your guests can celebrate happily knowing that the dinnerware you meals are served on are free of dyes and chemicals. No matter what you're serving, our compostable dinnerware is up for the job. Each piece is thick and resistant to liquid, which ensures a mess-free meal through every course.
Once the fun is over, cleaning up is easy with Veneerware! Our entire line of plates, cutlery, and napkins are certified by the Compost Manufacturing Alliance as compostable and biodegradable. They'll break down in 4-6 months, leaving behind nothing but nutrient-rich soil.
It's no surprise that our compostable bamboo plates are a favorite for wedding event planning. For the co-conscious host that needs simplicity and affordability while remaining sustainable, Veneerware is the answer.
Planning an event and not sure where to start? Order our Veneerware sample box and test out every shape and size of compostable dinnerware we offer.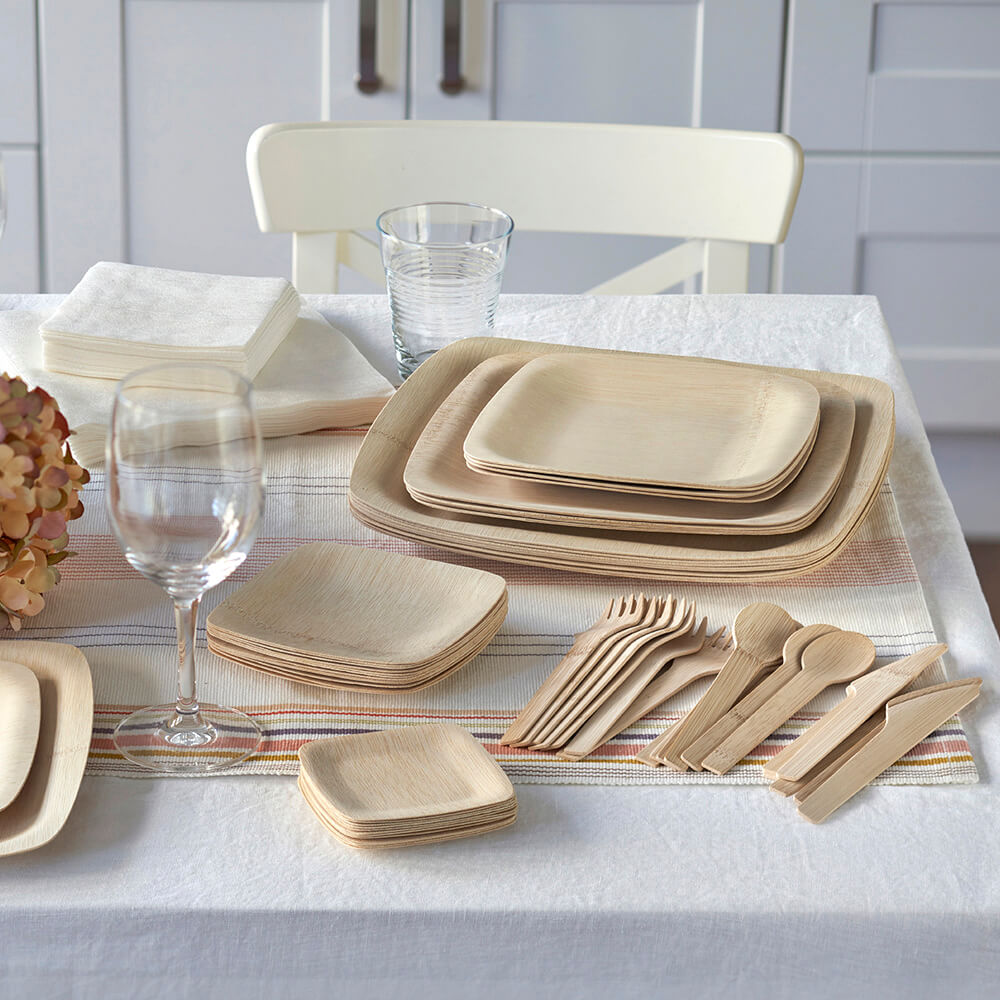 Our favorite compostable plates
Square compostable bamboo plates
Our most popular compostable plate design, and it's no wonder why. These square Veneerware plates add a touch of class to any tabletop. And with three handy sizes, you're covered from appetizers through dessert (minus the clean up). Pair them with compostable cutlery and our linen-like bamboo napkins for a tabletop set that's durable and classy. When you're finished, toss these plates in the compost.
Shop Now