We are pleased to share that bambu® joins with leading green-focused businesses as an approved member of the newly formed Compost Manufacturing Alliance. Read more here about the CMA. 
Membership to the Alliance reflects our commitment to high quality, low impact products. Our purpose since our inception 16 years ago has always been to provide people renewable, and organic alternatives to plastics and other harmful materials. Compost approved means that bambu and our customers are making a positive impact. 
bambu Veneerware® is the premier brand of disposable plates, disposable cutlery, and catering supplies. The products are used by thousands of individuals and organizations for nearly every type of event whether small and large, corporate or informal. 
Veneerware bamboo plates and bamboo cutlery are completely free from blemishes and visual irregularities common with other plate options. And as many customers have shared, these plates are sturdy and durable enough to use more than once.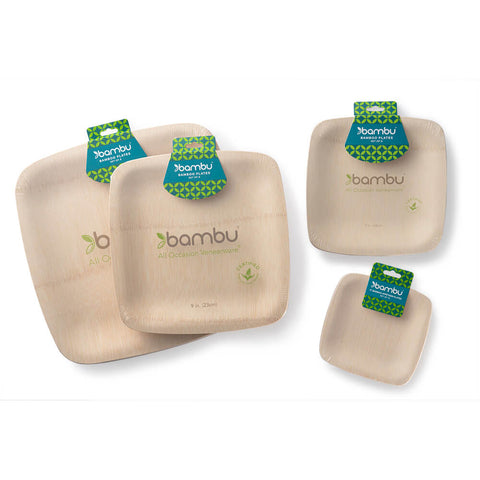 How We Think About Our Products
One of our credos is, 'more than a product.' Beyond simply making a product, we consider all aspects of our business and the product process. Not only how it's made, and how it is packaged, but also how it ships, and also the product's end-of-life. How do you dispose of it in the least impactful way? 'More than a Product' Youtube interview.
Our List of 'Firsts'
We were the first to bring to market bamboo plates and bamboo dinnerware back in 2003, our first year in operation. We were recognized with design accolades from Fortune magazine and International Design magazine within months. Since then, the company has achieved a number of other 'Firsts' along the way.
With the introduction of Veneerware®, bambu was first to create the 'Natural Disposables' segment as an alternative to plastic plates and common paper plates. 
Bambu was the first company to earn biobased certification for our Veneerware® brand of disposable plates, disposable cutlery, and accessories. Learn more about the Biopreferred Program here. 
bambu is the first and only company to earn Organic Certification for the source of our bamboo used to make Veneerware® disposable dinnerware. LETIS is a leader in quality and sustainability certification. 
Visit our website here to see the entire range of Veneerware® organic and compostable plates, cutlery and accessories. 
Another 'First' for bambu®
bambu is an approved member of the Compost Manufacturing Alliance. Further affirming the company's leadership and commitment to designing products that have minimal impact on the environment. Veneerware is the only brand of bamboo plates and cutlery to be included. 
The mission of CMA is to serve foodservice operators, municipalities, manufacturers and suppliers with field expertise and verified testing. There are four (4) classifications for testing and acceptance. 
View the Compost Accepted Products which represents the compost facility tested and accepted items here. bambu Veneerware is the only brand of bamboo or all-natural plates that have been accepted for composting. 
The list of Accepted Utensils also includes Veneerware® disposable cutlery. The approved list also includes various disposable cutlery made from corn, and PLA, and unknown wood sources.  
Why bambu Veneerware® products are not BPI certified 
The Biodegradable Products Institute (BPI) is one of the most recognized organizations governing compostable products and packaging. Membership fees and licensing fees largely fund its work and best practices. For six years bambu was a member of the BPI, but the company is no longer a BPI member. Here's why. 
The reason for this is the BPI is structured to test bioplastics such as bagasse, PLA, CPLA, and similar compounds, not all-natural materials such as bamboo. Products most associated with BPI are molded products made from sugarcane, and corn and fiber compounds. Think cornstarch cups, or corn-based knives and forks. 
At the BPI, there is no established testing protocol to measure the compostability of bamboo products. This is why we sought out other organizations to validate our products. 
Cedar Grove is a leading composting facility in the US. Cedar Grove has approved a full range of compost-accepted products. For a full range list of compost-approved products, go to this link. To view compost accepted plates & compostable cutlery go to these links here and here. You will find that bambu Veneerware is included for both our organic bamboo plates and bamboo cutlery. 
You can soon expect to see the Compost Manufacturing Alliance seal on our Veneerware packaging promoting our commitment to verified testing and to proven earth-friendly products.
Which Facilities Accept What Kinds of Material for Composting?
For specific information in your area, please refer to this website provided by GreenBlue. If you are interested in composting legislation, this is a great source to understand composting in your area.
Have questions about our compostable products? Ask us!