Camping Utensils & Tools
Take the natural beauty and durable quality of bambu products into the great outdoors. The bambu Outdoor range of camping utensils and tools are designed for cooking in the great outdoors. Food tastes better when you prepare it in nature, and bambu Outdoor offers the only USDA certified organic kitchen tools to get the job done. Whether you're looking for multi-purpose camping utensils or basic tools, our collection offers a selection of thoughtfully crafted items that thrive in the outdoors.
Cooking and enjoying meals in nature shouldn't mean you have to settle for subpar camping utensils and tools. While many camp cooking tools are made of synthetic materials like plastic or silicone, we crafted the bambu Outdoor line entirely from renewable, plant-based materials. They're made from nature, ready for you to enjoy in nature.
Although titanium is often touted as the best material for camping cooking tools, bamboo is actually lighter weight And, it's extremely durable, too. Unlike those made of other materials, camping utensils made of bamboo are stain and odor resistant and they won't scratch or damage metal camping stoves and pots. Because it's naturally antibacterial, bamboo is an ideal choice for backpackers or campers that might spend several days outdoors without ideal dishwashing conditions.
When searching for camp cooking tools such as cutting boards, bamboo is once again found to be an ideal material. Our bamboo cutting boards can be found in convenient, compact sizes that pack easily and are ideal for your camp kitchen. And if they happen to be stained over a weekend trip, they can easily be refinished with a few strokes of sandpaper and a drop of finishing oil. With care, these durable camping cooking utensils can last for years to come.
While durability is key, thoughtful design is what sets the bambu Outdoor line apart. Crafted especially for the needs of outdoor enthusiasts, our line of camping utensils and tools have unique features that you won't find anywhere else. Backpackers will love the Long Handled Spoon, made especially for mess-free eating from freeze-dried meal pouches. And no camp kitchen will be complete without the Spoontula, a two-in-one tool that features a spatula and spoon, all in one compact cooking utensil. For those wanting to travel light and enjoy to the fullest, look no further than our hand finished camping utensils and tools. Made from nature, for nature.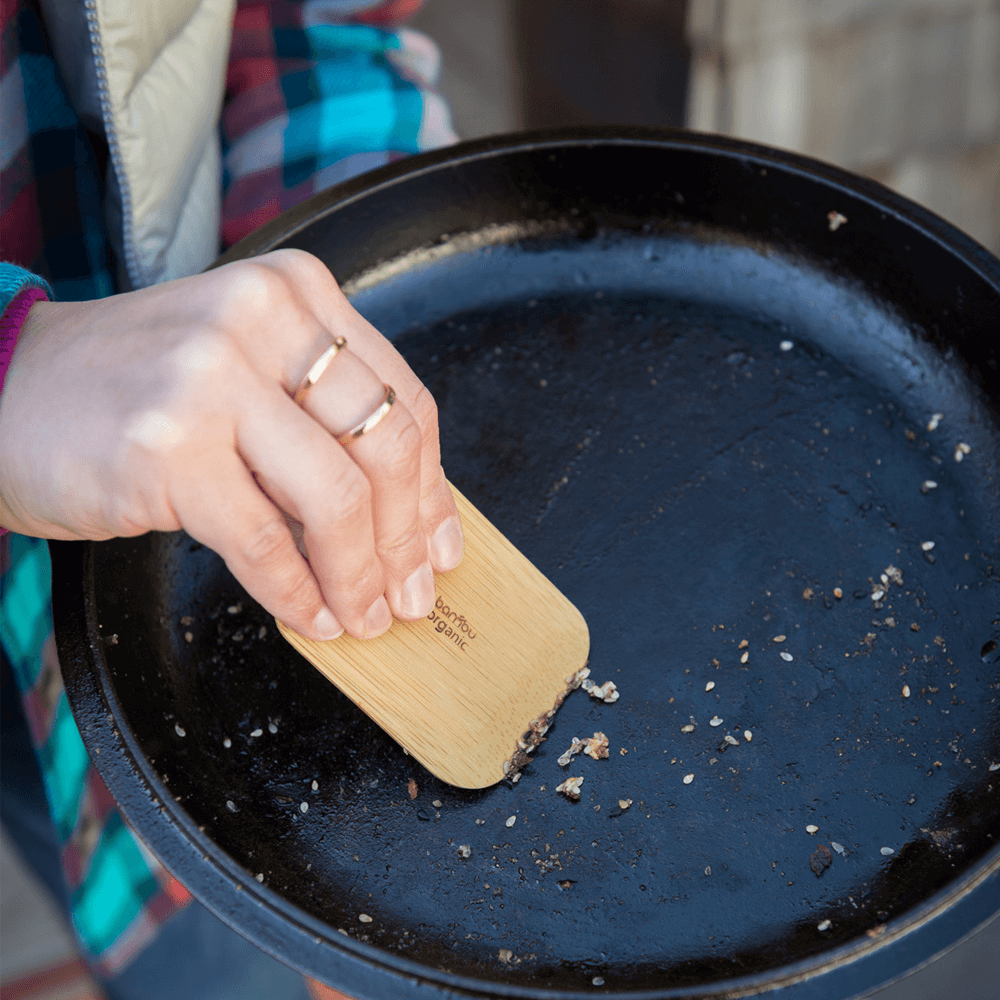 Our favorite camp cooking tools
Original Bambu Pot Scrapers
It's true - the best tools come in tiny packages. One of our bestselling camp cooking tools is the pot scraper. A small tool with two uniquely shaped sides and many uses. Ideal for scraping pots, pans, and dishware clean, the pot scraper makes doing the dishes an easy job, even without a proper kitchen. Save water while ensuring squeaky-clean dishware. Keeping your outdoor kitchen clean and ready for each meal is quick and painless with camp cooking tools like this on your side.
Shop Now