This lesser-known certification  is paving the way toward a renewable future. One that's not dependent on fossil fuels. Biobased products now exist in nearly every category. And, as one of the oldest members of the USDA Biobased program, we're here to tell you all about it.
What does 'Biobased' mean?
Biobased products are derived from raw, natural materials such as plants. And, other renewable agricultural, marine, and forestry materials. Typically, these products provide a renewable alternative to conventional petroleum derived products. This means that biobased materials are much more eco-friendly than their non-renewable counterparts.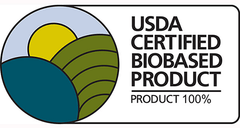 The USDA Biobased Certification
You might be wondering, "do we really need another so-called green certification floating around?" It's a valid thought. The number of certifications (and how credible they really are) can feel like a maze.
But the USDA Biobased certification is trustworthy. And it's helping the marketplace switch from products made from fossil fuels to those powered by renewable sources. Here's how it works:
The USDA BioPreferred Program was created in 2002. The goal was to increase the use of renewable agricultural resources. In doing so, the nation's reliance on petroleum would decrease. All while contributing to reducing adverse environmental and health impacts.
The certification was also created to give transparency to customers. In a world where greenwashing is at an all-time high, consumers can be sure that what they're buying is as eco-friendly as it's promised to be.
Third-Party Testing
Within the Biobased program, items must be made from a percentage (up to 100%) of natural materials. To ensure that their certification is accurate, companies use third-party testing to verify the materials they use.
Product Vs Packaging Certification
Both product packaging and the product itself can be certified as biobased. And both can be certified for containing between 25% and 100% biobased materials.
When you pick up a product with the USDA Biobased label, you'll see a number on it. And, you'll also see the words "product," "package," or both. This tells you what part of the item is USDA certified, and how much. For example, our bamboo utensils and all our packaging is 100% USDA Biobased Certified. This means that 100% of the product (and the packaging) is made with plant-based, renewable materials.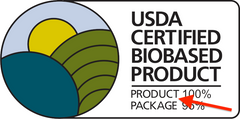 With so many so-called sustainable brands out there, it can be hard to know what's really making a difference. Certifications are an important way to show that eco-friendly action is truly being taken. And they can lead to big, real changes. Here's how:
Why Are Biobased Products Important?
They're made with natural, renewable materials. Because of this, these products have a much smaller environmental impact. For example, let's look at the difference between Biobased bamboo cookware and fossil-fuel based cookware.
Bamboo absorbs carbon during its growth cycle, and a bamboo spatula will decompose into clean soil at the end of its life. A plastic spatula requires the use of fossil fuels to be made. Which means carbon is emitted. When it's thrown away, the plastic spatula will break down into microplastics over the course of a few hundred years.
Biobased products use renewable sources to create their products. This means that you're not supporting the production of items that use petroleum, and are instead supporting green production. And, the use of natural materials means you can say goodbye to harsh chemicals or unpronounceable ingredients. Choosing biobased products is better for you, your family, and the environment.
Certification = Clear Information
Biobased products also raise the bar and hold businesses accountable. When you're choosing between products, looking for a Biobased certification tells you that you're really making a green choice. As more customers choose third-party certified products like these, it requires other businesses to improve their practices. Step-by-step, this can push fossil-fuel-based products out of the picture altogether.
Our path to certification
Here at Bambu, we knew early on the importance of using natural, plant-based materials. For us, it is not enough to simply say our products are biodegradable. There are too many false and unsubstantiated claims being made.
"Greenwashing" products to appear sustainable when they aren't is a huge issue in our industry. And we believe that we must do better. Gaining important certifications is an important way to prove that we do what we say. Because our customers deserve the truth.  And that means you should always know what your products are made of.
The Start: 2010
In 2010, Bambu applied for and earned its first biobased certification for our Veneerware® line of compostable (and biodegradable) bamboo plates. And our bamboo cutlery and tableware. Veneerware was the first brand of disposable bamboo plates to earn this designation. And we're the only brand to create a product like this made from 100% biobased content.
Our Veneerware bamboo plates, bamboo cutlery, and bamboo napkins are all Certified Biobased Products. Veneerware bamboo plates and bamboo cutlery are also organic certified. Which makes these the only organic and biobased dinnerware available.
As just another commitment to transparency, Bambu certifies its sources annually. So you can be sure that we're doing our job the right way, all the time. Our Veneerware line is also the first and only line of bamboo plates that are compostable (approved and certified by Compost Manufacturing Alliance).  From 2010 to now, our eco-friendly mission has only grown.
2020 Updates
In 2020, we extended our certifications to include our range of bamboo cutting boards, and bamboo utensils. With this expanded certification, Bambu is happy to announce that nearly every product we sell is 100% biobased certified. Bambu is now home to the first Certified Biobased bamboo cutting boards, bamboo utensils, kids cutlery, and disposable plates. We're the first and only company to achieve this landmark.
100%, Always
The requirement to gain a Biobased certification is only 25% biobased content. But we've ensured that every one of our certified products, and all of our packaging, contains 100% biobased material. This means that they aren't just biobased. They're also biodegradable.
What's the difference between Biobased and Biodegradable?
These two terms sound similar, but they're not the same. Biobased refers only to what a product is made of. Examples of biobased materials are bamboo, hemp, and cotton. Biodegradable refers what happens when a material breaks down. Biodegradable materials must be able to return to natural substances (like biomass or water) at the end of their lives.
What does this mean for biobased products? Many, but not all are biodegradable. If a biobased product is only 50% biobased certified, it may not be biodegradable. Others, like our 100% biobased plates, are biodegradable and compostable.
Not sure what to do? Always check your products label for proper disposal instructions.
How to find Biobased Products
Ready to make the switch? Look for the USDA Certified Biobased seal on a product if you want to minimize your impact on the planet. Many products at your local supermarket contain the USDA Biobased Certification. But, if you can't what you want, use the biobased products database.
The Certification In 2023
It's been ten years since Biobased products came to the market. In that time, the program has sparked a growing interest in renewable alternatives. In 2023, you can find a biobased version of nearly anything. And, March 8th, 2023 marks the first National Biobased Products Day.
As one of the oldest members of the USDA BioPreferred program, bambu is proud to be featured as a 2023 case study for other businesses interested in the Biobased certification. And, after seeing what can be accomplished in just 20 years, we've never been more excited about the future of biobased products.
Biobased Certified isn't the only thing that sets Bambu apart! Our commitment to offering 100% carbon free shipping, and our B Corp status. And the fact that we're Women Owned Certified, we've found a lot of ways to ensure what we do is the best for the Earth and all who live on it. To learn more about Bambu and our other certifications, check out our certifications page.