Bamboo Eating Utensils
Welcome the beauty of nature into your meals with eating utensils made from certified organic bamboo. Unlike other materials that can scratch or damage your favorite plates, our organic utensils are smoothly hand-finished for scratch-free use with any material. Even your finest china will be safe with our gentle yet effective utensils. Enjoy the look and feel of naturally attractive bamboo eating utensils without sacrificing functionality. Our utensils are made to perform, which is why you'll find that our knives cut well, or spoons are perfect for soup, and our forks are even better than metal. From the picnic table to the dinner table, enjoy our bamboo utensils for years to come, wherever you eat.

Did you know that bamboo is the strongest woody plant on earth, its odor and stain resistant, and that it's extremely lightweight? These properties are just some of the qualities that make bamboo utensils ideal for daily use. Indoors or outside, you'll find that bamboo eating utensils are durable, light, strong, and easy to care for.
We source the bamboo for our eating utensils from our wild-grown forest in the Fujian Province of China. Certified as USDA organic each year, our renewable bamboo is the ideal material for low-impact utensils. Because we believe that every detail counts, every one of our utensils is fashioned from a single piece of bamboo. This ensures a long-lasting tool that won't splinter or crack like those made from multiple pieces of wood or bamboo might. And, because we use a single piece of bamboo, we have no need for glues, lacquers, or chemicals. So you and your family can enjoy utensils that are food-safe and clean from the inside out.
Caring for bamboo eating utensils is quick and simple. Hand wash them with warm, soapy water, and let them air dry. If you find that your utensils are showing signs of wear, you can easily refinish them until they look brand new once more. Unlike unforgiving metal utensils, you can gently rub away scratches with a piece of sandpaper. Then, use our all-natural finishing oil to give your eating utensils a warm, smooth sheen.
While bamboo might be one of the strongest materials, it also has a clean life cycle from start to finish. It can be difficult to figure out where to recycle other types of utensils, but when you choose Bambu, it's simple. Because our bamboo utensils are entirely plant-based and certified Biobased, they will simply biodegrade once their life is over.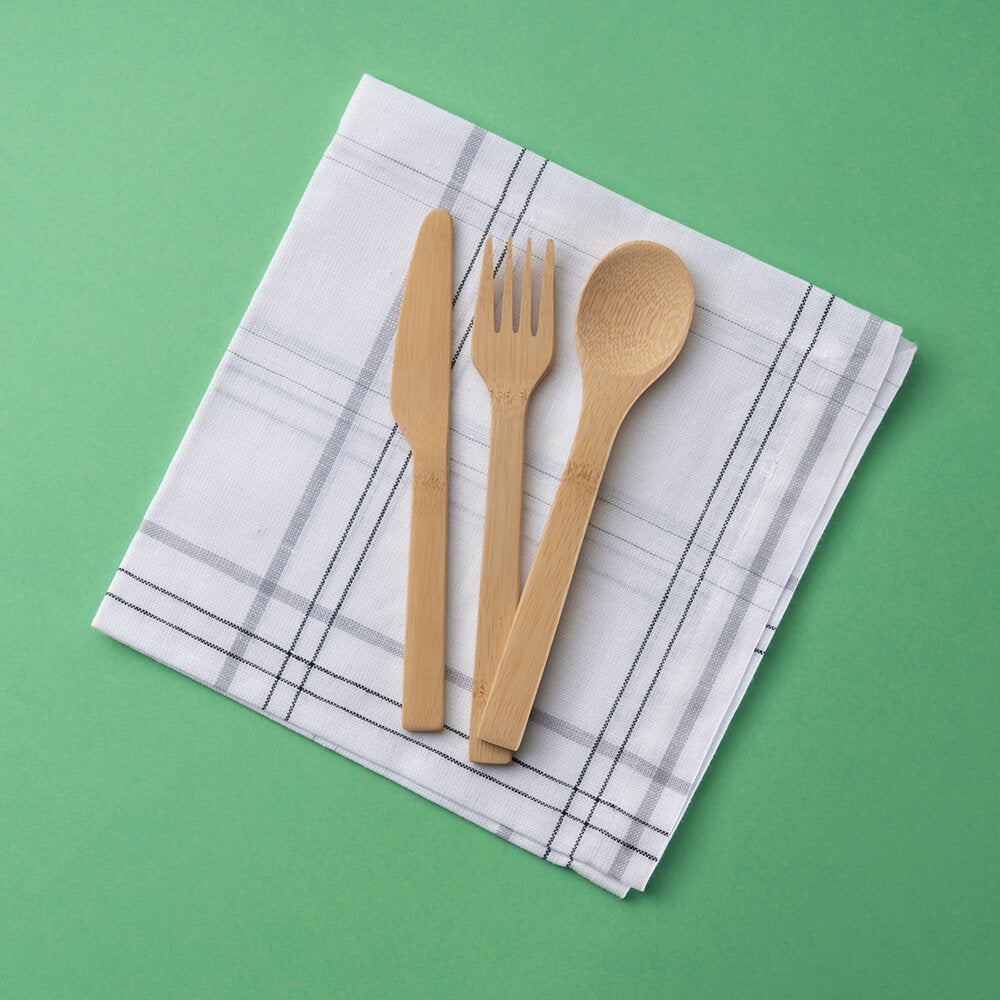 Our favorite bamboo eating utensils
Organic bamboo eating utensil set
Mealtime never looked so good! Our set of bamboo eating utensils are hand-finished, free of glues or lacquers, and certified organic and biobased. For picnics, backyard BBQ's, and weeknight dinners at home, this knife, fork, and spoon are made to last and ready for it all. Eating on the go? Try our utensil set with an included eco-conscious pouch that keeps your tools clean and mess-free.
Shop Now