Bamboo Travel Utensils
This collection of bamboo travel utensils and bamboo straws offers a variety of options for going plastic-free in your home and on the go. We've also got eco-friendly travel accessories with cork fabric, organic cotton, or hemp denim covers that will keep your utensils clean on-the-go.

Did you know that bamboo is lighter than titanium, and that it's the strongest woody plant on Earth? As an ultralight and durable material, bamboo is uniquely suited for the needs of travelers and outdoor enthusiasts. No need to add unnecessary weight to your bag, or worry about damaging your utensil set in a full purse or backpack. Plus, bamboo is naturally stain and smell resistant, keeping your travel tools looking fresh for longer. The bambu line offers the best travel utensils for low-waste eating, anywhere.
While utensils and straws might seem like a small part of your day or trip, choosing a reusable solution is a huge step towards a renewable future. Most disposable utensils (and many travel utensil options) are made of plastic. Creating these items uses non-renewable resources and contributes to fossil fuel pollution. Once they're made, these plastic utensils will last for generations in the landfill after just minutes of use. Bamboo offers a plant-based, clean solution. And one that's more durable. You can trust a set of reusable bamboo utensils to hold up to daily use for commuting, picnicking, and camping. No snapping, warping, or need to toss them in the trash after your meal. With a set of travel utensils like these, there's no need to reach for a disposable.
Made entirely of USDA certified organic bamboo, our travel utensils and straws are certified food-safe. So you can travel easy knowing that your utensils are chemical free and made with the highest quality bamboo. While other bamboo utensils might crack or chip, ours are always made from a single piece of bamboo. This makes them stronger and less prone to damage. And, they are free of glues and lacquers that others might use to bind utensils made with multiple pieces of bamboo.
Choosing the eco-friendly solution shouldn't make traveling any harder, which is why many of our best selling travel utensil sets come with a cover or convenient carry bag. And, like our utensils, they are made entirely with renewable, plant-based materials. Simply slip your utensils into their cover when not in use for sanitary, mess-free storage.
This collection is empty.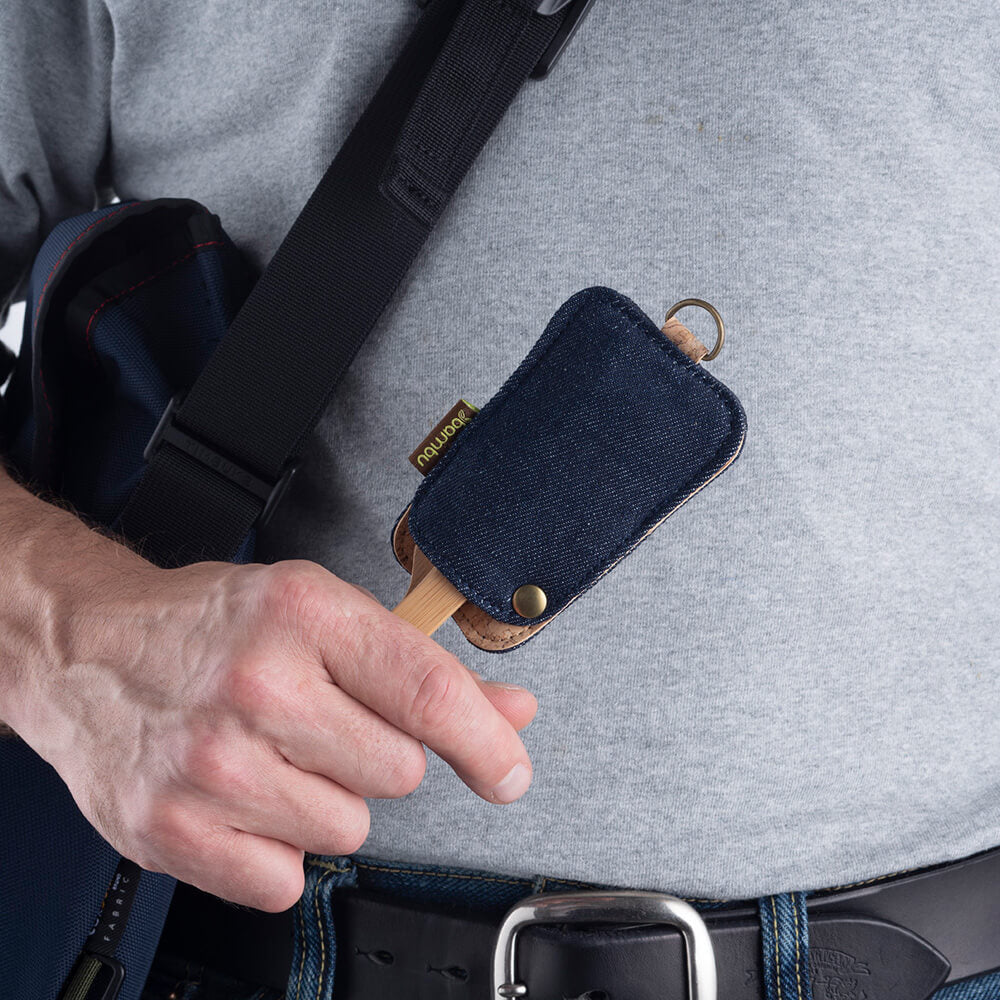 Our favorite travel utensil set
The bamboo travel utensil set with an eco-conscious pouch
One of our bestselling sets of bamboo travel utensils, and it's easy to see why. Carefully crafted to work as any other utensils would, our knife cuts, our spoon is fantastic for soup, and our fork is durable without scratching or damaging food storage containers. When you're not enjoying mealtime, use the accompanying pouch to cover and keep your utensils in one neat stack. Choose from a cover made from cork fabric, or opt for a mix of organic cotton and cork. Either way, easily store your set in a purse or backpack for everyday use.
Shop Now